Hotel Info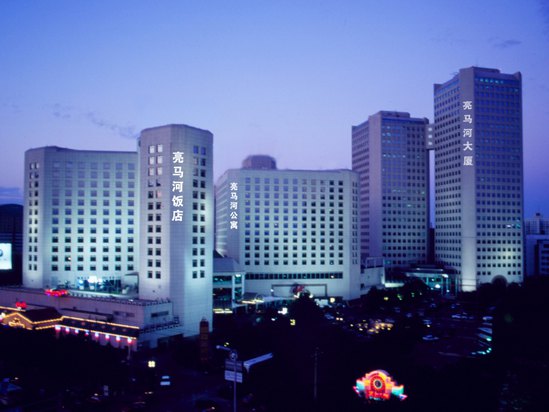 Beijing Landmark Towers Hotel
is located in the business, economic and cultural center of Beijing, and is located in the CBD of Yansha, Beijing. The geographical location is superior, and the traffic is convenient and convenient. It is about 20 minutes' drive from the Capital International Airport. The airport bus Liangmaqiao Station is located directly at the hotel's main entrance to the airport. It is about 400 meters from Liangmaqiao Station (Exit C) of Metro Line 10, and it takes about 3 minutes to walk. Adjacent to the second and third embassy areas, it is within 10 minutes' walk to nearly 10 embassies, such as the US Embassy, Japanese Embassy, French Embassy, etc., to facilitate visa processing for various countries. It is about 5 minutes walk from National Agricultural Exhibition Center, and only 5 minutes drive from China International Exhibition Center. It is only a few minutes drive from Sanlitun, Blue Harbor and International Trade CBD.
Beijing Landmark Towers Hotel
integrates hotels, apartments, conference centers and office buildings. It has always adhered to the meticulous service concept, dedicated to the perfect combination of business luxury and Chinese charm, and strives to make every guest feel the warmth of 'home' and Comfortable.
Puliang Mahe Hotel has a total of 466 and 228 apartments in various suite types including deluxe suites, deluxe rooms, superior rooms, and standard rooms. The rooms are dominated by European style with modern style as the basic tone. The colors are simple and warm. The overall space is flexible and vivid. It is a good choice for corporate travel and meetings. The store also has a 55,000 square meter office building, a 800-square-meter Wandai hall and a 1,100-square-meter Zijin hall. It can accommodate banquets and conferences, and is equipped with first-class multimedia video conference facilities. The twelve multifunctional halls, such as the Plum Blossom Hall and the Lotus Hall, are ideal places for customers to conduct business negotiations and large, medium and small parties.
In addition, the hotel has a number of exquisitely decorated restaurants and facilities: Cui Ya Cafe, Qiaojiang South, Green Wave Gallery, Jinde Restaurant, Jin Nai Xiang Japanese Restaurant, Starbucks, Clubs, Supermarkets, Bars, Beauty Salons, Business centers, fitness centers, tourist service centers, banks and post offices are all available, so that guests can enjoy multiple living enjoyments such as accommodation, food, leisure and entertainment without leaving home.
The pleasant scenery of the Liangma River, the bustling and mature CBD Lufthansa business district, the superior and convenient location, and the quality and considerate hospitality services, in search of a touch of tranquility in the hustle and bustle of the city,
Beijing Landmark Towers Hotel
is the first choice for business travelers.